New novel "The Berrycreek Heights Series: The Finding" by Adry M. Porto is released, a gripping story of love, obsession, and the hunt for a missing person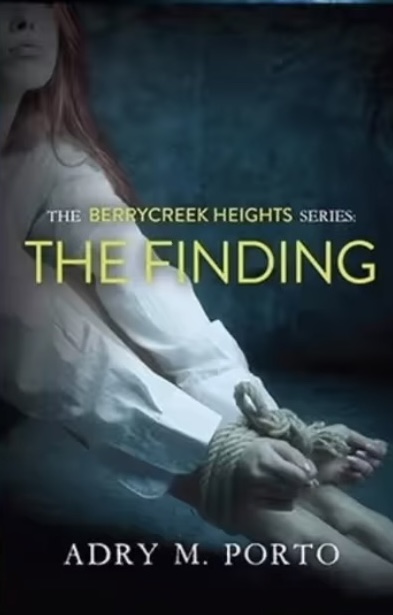 "The Berrycreek Heights Series: The Finding" by Adry M. Porto has been released worldwide. The author's debut novel and first book in a forthcoming series, this thrilling story follows young Logan and his relationship with Victoria. Consumed by the desire to protect Victoria from her abusive stepfather, Logan's world is turned upside down when she disappears, leading him on a twelve-year hunt for his beloved. Navigating a dark world of violence and malice he never expected, Logan's obsession with finding Victoria threatens to destroy him. When he finally discovers the truth about her disappearance, things get even worse.
With unexpected twists and a harrowing look at the depths of human depravity, Porto's debut novel explores a broad emotional spectrum, the dangers of obsession, and the determination to carry on when hope seems lost. The book also serves to spread awareness about abuse and the lasting damage it can cause for survivors.
The Berrycreek Heights Series: The Finding (ISBN: 9798757584805) can be purchased through retailers worldwide, including Barnes and Noble and Amazon. The paperback retails for $15.99.
From the back cover:
How do you overcome the event that haunts your past when you're trying to protect the ones you love?
Logan Lancaster is about to learn a lesson in evil he will never forget. When Logan encounters Victoria, a girl with an abusive stepfather, he realizes his new purpose: keep her safe at all costs! But despite his best intentions, his greatest nightmare manifests when Victoria disappears.In this first book in the Berrycreek Heights Series, The Finding follows Logan over the next twelve years on a desperate search for a missing person. Logan's attempts to reveal the truth of Victoria's disappearance lead him to a crossroads. Will he succumb to the same evil that spirited her away? Or will his obsession allow him to rescue her from those who would harm her?This series by debut author Addy M. Porto is a dramatic and emotional foray into the pitfalls of obsession and the depths of love.
Media Contact
Company Name: MindStir Media LLC
Contact Person: Jen McNabney
Email: Send Email
Phone: 800-767-0531
Address:1 New Hampshire Ave Suite 125
City: Portsmouth
State: NH
Country: United States
Website: https://mindstirmedia.com/