Liquidus Finance Launches Mobile App for Android and IOS
UAE Web3 Startup Offers Innovative Blockchain-Based Trading and Investing Platform for Tech-Interested Users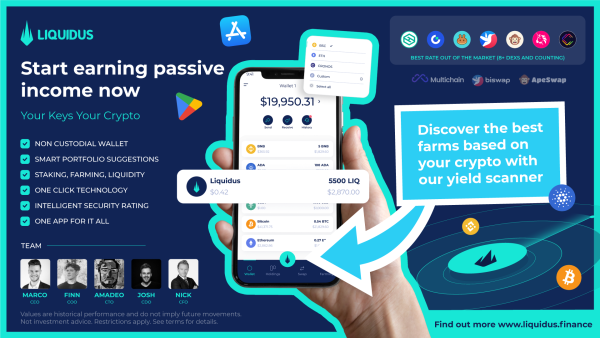 Dubai, United Arab Emirates – Liquidus Defi Technology Systems Ltd, a UAE-based web3 startup, is thrilled to announce the launch of its mobile app for Android and IOS. The app, which is now available for download on the App Store and Google Play, offers users a cutting-edge blockchain-based platform for trading and investing in a variety of assets.
The Liquidus Finance app is designed for tech-interested individuals who are looking for new and exciting ways to manage their finances. The app utilizes the latest blockchain technology to offer users a secure and decentralized platform for trading and investing in – and earning on digital assets such as cryptocurrencies, tokens, digital stocks, and digital commodities.
One of the key features of the Liquidus Finance app is its user-friendly interface, which makes it easy for users to navigate and manage their portfolios. The app also includes a variety of tools and resources to help users make informed decisions about their investments, such as real-time market data and analytics.
In addition to trading and investing, the Liquidus Finance app also boasts its own token for cutting fees and enhancing existing market rates. The app's unique combination of decentralized finance and simplicity makes it an attractive option for users who are looking for an interactive and engaging way to enter the world of digital assets.
The Liquidus Finance team is committed to providing a safe and secure platform for its users. The app's underlying protocols are designed to ensure that users' assets are protected and that transactions are executed in a transparent and secure manner.
"We are excited to launch our mobile app and bring our innovative blockchain-based platform to users in the UAE and around the world," said Finn Lauppert, the COO of Liquidus Defi Technology Systems Ltd. "We believe that our platform will change the way people think about trading and investing and we look forward to seeing our users succeed."
For more information about Liquidus Finance and its mobile app, please visit the company's website at liquidus.finance or check out their Medium blog at https://blog.liquidus.finance/. Users can also contact the company at [email protected] for any further inquiries.
Media Contact
Company Name: Liquidus Defi Technology Systems Ltd
Contact Person: Marco Wenisch (CEO)
Email: Send Email
Address:Unit GA-00-SZ-L1-RT-201, Level 1, Gate Avenue – South Zone, Dubai International Financial Centre
City: Dubai
Country: United Arab Emirates
Website: https://liquidus.finance/